Birdwatching Trip Kakamega Forest to the Kenya Coast 24 Days/ 23 Nights:

Friday 22 November to Friday 08 December 2015/16
Extension to Friday 15 December 2015/16

with Joseph and Steve as leaders

Our well-planned itinerary includes: Nairobi National Park, Mt. Kenya, Lakes Nakuru, Naivasha and Baringo, Kakamega Forest, Lake Victoria and the Masai Mara Game Reserve.

Our extension: includes Tsavo National Park, the coastal forests and shore near Watamu and Taita Hills and Lake Jipe on the Tanzanian border.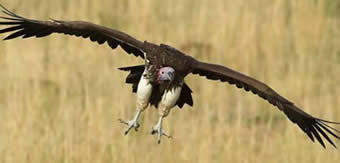 This tour is normally expected to record around 600 species of birds,and well over 700 with the extension, but simple birdlists can't begin to capture Kenya. First, it's a remarkably diverse and beautiful place: rolling grasslands dotted with flat-topped acacias, mountains like Mt. Kenya rising above 17,000 feet, riverine forests, arid plains, the eastern edges of the vast Congo rainforest, Great Rift Valley lakes, coastal forests and productive estuaries. Second, much of our birdwatching is done in national parks and reserves where we're surrounded by East Africa's extraordinary array of mammals. To be looking at some wonderful bird and then turn around to see a Leopard, a herd of African Elephants or some other arresting creature seems like the stuff of dreams but in Kenya it happens several times every day!
ITINERARY
Day 01: The tour starts in your europe destination mostly as your connecting point to Africa with an overnight flight to Kenya.
Day 02: Morning arrival in Nairobi. We'll take you straight to the hotel where we'll see our first African birds including local specialties such as Holub's Golden Weaver. We'll spend the balance of the day in the rolling grassland and scattered acacias of Nairobi National Park where we'll find gazelles, giraffes and we hope Black Rhinoceros as well as a heady array of birds including Ostrich, Grey Crowned-Crane, Secretary-bird, Verreaux's Eagle, Long-tailed Fiscal and Red-billed Oxpecker among many others. At the famous Hippo pools we'll take a walk among the yellow-barked acacias in search of local specialties such as Red-throated Tit, Dark-capped Yellow Warbler and African Moustached Warbler. Night in Nairobi.
Day 03: On our first full day we'll drive southwest over the Ngong Hills and stop to look for Lynes's Cisticola before descending through whistling-thorn Acacia scrub into the Great Rift Valley. Birds are everywhere numerous and should include spectacular species such as Pale Chanting-Goshawk, Von der Decken's Hornbill and Red-and-yellow Barbet, as well as local specialties including Short-tailed Lark and Black-necked Weaver. In the afternoon we'll continue to alkaline Lake Magadi on the floor of the Rift Valley. Here we'll see our first flamingoes, usually including both Lesser and Greater, but our main target will be the very local Chestnut-banded Plover, which we'll need to pick out from large flocks of wintering Palearctic shorebirds which include many Ruffs and Little Stints. Night in Nairobi
Day 04: We'll drive north toward Mt. Kenya stopping en route at the Blue Posts Hotel where we'll look for Silvery-cheeked and Trumpeter Hornbills in the well-wooded gardens. We'll continue to Serena Mountain Lodge on the forested slopes of Mt. Kenya arriving in time for a late lunch. Although we are restricted to the lodge and nearby car park, birdwatching from the open roof is excellent as the forest presses in on three sides and we'll see many species including Olive and Eastern Bronze- naped Pigeons, Hartlaub's Turaco, Rüppell's Robin-Chat, Mountain Yellow Warbler and Yellow-crowned Canary. The waterhole in front of the lodge attracts a variety of mammals, among them African Buffalo, Bushbuck and the occasional Bushpig and Giant Forest Hog. At night Large Spotted Genet visits a floodlit feeding station and if we're lucky a Verreaux's Eagle-Owl will be in residence. Night at Serena Mountain Lodge.
Day 05: We'll spend the early morning at Mountain Lodge where a short walk may reveal White-starred Robin and Abyssinian Crimson-wing. After breakfast we'll leave the lodge, driving slowly down through a forest rich in birds perhaps including Crowned Eagle, African Emerald Cuckoo and Moustached Green Tinkerbird. We'll arrive at Naro Moru River Lodge in time for lunch. The lodge is located in remnant forest on the lower slopes of Mt. Kenya and we'll walk a shaded riverside trail in search of Black Duck, Crowned Hornbill, Giant Kingfisher, Mountain Wagtail and up to eight species of sunbirds including the stunning Tacazze. Night at Naro Moru River Lodge.
Day 06: In the early morning we'll drive across the Solio Plains stopping as we go to study an array of small passerines perched on the roadside wires, primarily African larks, wheatears and cisticolas. Lesser Kestrels are often numerous here and we have a good chance of finding a Greater Kestrel too. Turning south we'll head into the Aberdare Mountains where a good road will take us above treeline into moorland habitat. As we ascend through mixed woodland we'll see Jackson's Francolins along the road and the songs of Brown Woodland Warbler should give away their presence. We'll stop at the end of the road in high moorland habitat above 10,000 feet. Alpine Chats will be common here and easily seen, though we may need to hike for half-a-mile or so to a patch of giant Lobelias to find the main speciality, Scarlet-tufted Malachite Sunbird. In the late afternoon we'll drive back down to Nyeri. Night in Nyeri
Day 07: After some early morning birding in the grounds of our hotel we'll drive north to the spectacular Thomson's Falls, stopping en route to search an old quarry for Cape Eagle-Owl and a small marsh to look for African Snipe and Levaillant's Cisticola. After a picnic lunch at the falls, and a short walk to look for Slender-billed Starling, we'll climb high into the mountains where flowering roadside Leonotis bushes attract brilliant Golden-winged and the occasional Malachite Sunbirds. We'll stop at a lake where several species of Palearctic ducks winter though of more interest to us may be the Southern Pochard and Maccoa Ducks. As the day ends we'll drop down the eastern edge of the Rift Valley to Lake Nakuru. We may arrive in time to see Hildebrandt's Francolin feeding on the lawn of our lodge. Night at Lake Nakuru.
Day 08: We'll spend the morning at Lake Nakuru, world famous for its vast flock of flamingoes, pelicans, and a wealth of other waterbirds. In the Acacia woodland around the lake we'll look for such species as Narina Trogon, Red-throated Wryneck, Greater and Scaly-throated Honeyguides, Arrow-marked Babbler and African Firefinch. This is also a very good area for Leopards; they often spend the day asleep on big branches of the yellow-barked Acacia trees. After lunch we'll drive to Hell's Gate National Park, well known for its colonies of Rüppell's Vultures and hordes of Mottled and Nyanza Swifts. Lanners hunt the swifts along the cliffs and with luck we may see Spotted Eagle-Owl. Night at Lake Naivasha.
Day 09: We'll spend the early morning on the shore of Lake Naivasha looking for Goliath Heron and Little Bittern among the masses of other waterbirds. After breakfast we'll drive north to Lake Baringo, stopping for Black-headed Lapwing, Dark Chanting-Goshawk and Silverbird on the way. We'll spend part of the afternoon in the garden and along the lakeshore, both rich in birds including many that will be new for us: Blue-cheeked Bee-eater and Hunter's Sunbird among others. We'll also venture out into the nearby scrub where incredibly sharp-eyed local guides will help us find Spotted Thick-knee, Heuglin's Courser, Lichtenstein's Sandgrouse and Southern White-faced Scops-Owl. At dusk Slender-tailed Nightjars come gliding along the lakeshore and at night Hippopotamuses often graze on the lawn in front of our rooms! Night at Baringo.
Day 10: We'll visit the nearby cliffs at sunrise scanning for Fan-tailed Raven, Hemprich's Hornbill, Cliff Chat, Brown-tailed Rock-Chat and Bristle-crowned Starling. After breakfast we'll travel up the west side of the Rift to Kabarnet and descend into the spectacular Kerio valley. On rocky hillsides amongst large scattered trees we'll search for Green-backed Eremomela and Chestnut-crowned Sparrow-Weaver, before stopping for lunch in the wooded valley bottom where Brown Parrot, White-crested Turaco, Pearl-spotted Owlet and Black-headed Gonolek may well liven up our picnic. At a spectacular viewpoint halfway up the western escarpment of the valley may offer as well the very local Boran Cisticola. Late in the day, we'll reach our hotel in Kakamega Forest. Night in Kakamega Forest.
Days 11-12: Kakamega Forest may only be a remnant of a once extensive woodland, but is still full of birds, many of which are found nowhere else in Kenya. As always, forest birding can be hard work but with persistence we should find Banded Snake-Eagle, Great Blue Turaco, Blue-headed Bee-eater, Black-and-white Casqued Hornbill, White-chinned and Banded Prinias, Jameson's and Chestnut Wattle-eyes, Bocage's and Lühder's Bush-Shrikes, Black-billed and Vieillot's Black Weavers, Grey-headed Negro-finch, and Red-headed Bluebill. Red-tailed Monkey and Giant Forest Squirrel are two of the mammalian specialties here.
On our second morning we'll drive west toward the Ugandan border. Just after dawn we'll reach a major river where a pair of delightful Rock Pratincoles normally reside on some isolated boulders. A nearby area of streamside bushes and cultivated fields which holds a number of western species with small or localized Kenyan populations including Senegal Coucal, Yellow-fronted Tinkerbird, Yellow-throated Leaf-love, Copper Sunbird, Bar-breasted Firefinch and Compact Weaver. Nights in Kakamega.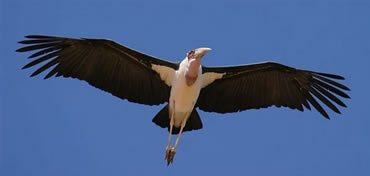 Day 13: We'll leave early and drive to the shores of Lake Victoria to look for Blue-headed Coucal, Greater Swamp Warbler, Swamp Flycatcher, Papyrus Gonolek, Slender- billed Weaver and other papyrus-bed specialties. A visit to an extensive area of rice cultivation should produce Open-billed Stork, Southern Red Bishop and Zebra Waxbill. In the afternoon we'll drive south to the Masai Mara National Reserve where we'll spend two nights at Kichwa Tembo Camp.
Day 14: The Mara is in many respects the most spectacular part of the trip offering long views over flat-topped acacias and grassy plains with an abundance of animals. We'll spend the day in the western part of the reserve and should see most of the plains species for which East Africa is famous: Lion, Cheetah, Elephant, Wildebeest, hartebeests, Topi, Thompson's, Grant's Gazelles and many others. Birdwatching here will be delightful and highlights should include Rufous-bellied Heron, Saddle-billed Stork, Temminck's Courser, Sooty Chat and, with luck, Ross's and Shallow's Turacos. Night at the Kichwa Tembo Camp
Day 15: Today we'll drive right through the center of the Masai Mara and gain a clearer appreciation of this extensive reserve with its multitudes of mammals and birds. We'll stop at Keekorok Lodge to look for Red-necked Spurfowl and end up at Siana Springs, a luxurious tented camp at the eastern end of the Mara. After dinner there will an optional night drive during which we should see bizarre Spring Hares, one or more species of mongoose, perhaps Bat-eared Fox, and several species of nightjar. Night at Siana Springs or Mara Sarova Tented Camp.
Day 16: Before breakfast we'll explore a valley adjacent to the camp where Kenya's only population of Magpie Shrikes can be found and where we'll also search for African Penduline Tit. Later we'll drive back to Nairobi, stopping en route to look for one of Kenya's few endemics, the endangered Sharpe's Longclaw. Night in Nairobi.
Day 17: Those participants who are not joining the extension will catch a morning flight to Europe/London, arriving in the afternoon.
Eastern Kenya Extension
Day 17: Participants continuing on the extension will spend this morning of day 17 driving southeast to Tsavo National Park. We'll stop at Hunter's Lodge for lunch and a visit with a bustling colony of African Golden Weavers, and we may encounter the resident Giant Kingfisher. In the afternoon we'll enter the park and look for species typical of dry acacia country such as Crested Francolin, Black-headed Plover, Black-faced Sandgrouse and Golden-breasted Starling. We'll spend the night at Patterson's Safari Camp, where the resident pair of African Scops Owls are sure to delight us.
Day 18: We'll spend the early morning birdwatching around the camp. We'll leave after breakfast and spend all day driving to the coast through the eastern part of the park where we'll look for Buff-crested Bustard, Red-winged Lark and Chestnut-backed and Chestnut-headed Sparrow Larks and with luck Somali Courser and Chestnut-bellied Sandgrouse. We'll also have our best chance for that elegant gazelle, the Gerenuk, Night in Watamu.
Days 19-20: We'll make early starts spending our mornings in Sokoke Forest. Most famous for being the northernmost Brachystegia forest, Sokoke has three near- endemics: an owl, a pipit and a weaver. We have a good chance of seeing the first two but the last is rather nomadic and can be hard to find. We should, however, see such birds as Green Barbet, Black-headed Apalis, Retz's and Chestnut-fronted Helmet-Shrikes and Amani and Plain-backed Sunbirds. We'll visit nearby Mida Creek to see the spectacular Crab Plover, different enough to warrant its own family, and other wintering waders including Greater and Lesser Sandplovers and Terek Sandpiper. The beach at Malindi holds roosting flocks of gulls and terns including Sooty Gull and Crested, Lesser Crested and Saunders's Terns. Nights at Watamu.
Day 21: After a final early morning in the forest we'll drive south to Mombasa and then inland to Ziwani Camp on the edge of Tsavo National Park West. If we make good time we'll stop in some dry scrub close to camp to look for White-headed Mousebird, Scaly Chatterer and White-throated Robin. Night at Ziwani Camp.
Day 22: After an early breakfast shared with Taveta Golden Weavers we'll drive to Kitovu Forest, close to the border with Tanzania. This remnant patch holds a number of species hard to see elsewhere in Kenya and we'll look in particular for White-eared Barbet, Grey-olive Greenbul, Black-throated Wattle-eye and Red-capped Robin-Chat. After several hours in the forest we'll drive southeast to the bird-rich Lake Jipe where we'll search for Spur-winged Goose, Water Thick-knee, African Skimmer, Zanzibar Red Bishop . After a picnic lunch on the lakeshore we'll drive to Taita Saltlick Lodge, famous for the large number of elephants that visit its floodlit waterhole each night.
Day 23: We'll spend the morning in a remnant patch of forest at the top of the Taita Hills looking for a number of species that occur nowhere else in Kenya such as Stripe-cheeked Bulbul, Taita Thrush, Evergreen Forest Warbler, Taita Apalis, Yellow-throated Woodland Warbler and "Taita" White-eye. In the afternoon we'll drive back to Nairobi. Night in Nairobi.
Day 24: We'll catch a morning flight to London or Amsterdam where the tour concludes after our service to Airport transfer.
2015 price $6,500 per person for Each of 6 participants
Single Occupancy Supplement $1,518
With Extension included


Notes: All Participants required to meet the group in Nairobi should contact the office. Minimum group size for the tour to go ahead is 6 and Maximum group size 12 and two leaders.